Singing in a group like WHC is a great way to meet friends. We begin with a shared interest and passion for singing, and as we work and perform alongside one another, many a lifetime bond of friendship has grown out of this shared involvement.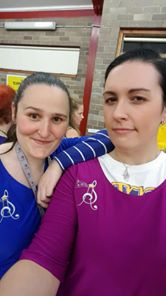 However we are more than a social group. We work hard to master the art of singing a cappella harmony in the barbershop style. We sing a wide variety of songs, and there is always something new to learn. Our membership of Sweet Adelines International guarantees opportunities for coaching by some of the best vocal coaches from around the world.
We learn rhythmic movement & choreography, in order to perform our songs more vibrantly and energetically.
There is a lot of singing, a lot of learning, a lot of dancing, and a lot of friendship. This all adds up to a lot of fun.
Barbershop has a very distinctive sound, which can be produced when applying very specific vocal techniques. We work as a "unit" to enable our voices to work together to best effect. Sweet Adelines has a strong emphasis on education, which helps us all to learn correct posture, the proper way to breathe and to sing words and notes the same way. Because the sound is based on 4 part harmony, the chorus is divided into 4 sections:
Leads - mostly sing the melody, but occasionally sing harmony. If you have sung Soprano or Alto in other choirs, your voice may fall into the lead range.
Tenors - sing a harmony part that is above the lead part, similar to a descant part. This part has great high notes that adds a special ping to the chord.
Basses - sing a harmony part that is the lowest part in the chord. Often this part drives the rhythm of the song, and may get to sing passages of melody when it falls into the lower range. If you've ever tried to sing with a choir and been told your voice isn't high enough, this is probably the part for you!
Baritones - sing a harmony part in a similar range to the leads. We often find baritone singers have sung Alto in other choirs. This part adds character to the chord and has fun swipes.
You may think these section names are a peculiar way to describe women singers, but that's just the way it is. Men were singing barbershop long before women took it up, and we are stuck with their terminology ...
No! Many members join not knowing how to read music and pick up what they need along the way. You will be given audio tracks of your part so that you can learn and practise at home. You will also receive the printed music - even if you do not read music you can learn a lot from watching where the notes on the page go up and down.
No. Vocal tuition forms part of each chorus rehearsal, and there are opportunities for individual tuition also.
Two things however are required: 1. You do need to be able to sing in tune, and 2. You need to be able to "hold your part" while others around you are singing something different.
We have an audition process in which we help you to discover what part may be right for you. Don't be put off by this -- we are a very encouraging group! And everyone in the chorus has been through this process herself and knows what it is like.
There are weekly fees for visitors - the first week is free then after that we ask you to pay $5 per week until you pass an audition to become a member.
Members pay $40 per month - this money goes to paying for international coaches, venue hire, partial costume subsidy, equipment such as the risers we stand on, music, director's fees, and membership in the international Sweet Adelines organisation.
Really, this is a question only you can answer.
The only way you will know is by giving it a go. You may come along and find it is not for you. Or it may turn out, as it has for dozens of women standing on our risers today, to be the best decision you've ever made.
Why not give it a go, to see if it's a good fit?
You can drop by one of our Thursday night rehearsals, or contact us!